Bachelor's degree
En Velp (Netherlands)
*Precio estimado
Importe original en EUR:
2,143 €
Descripción
Tipología

Bachelor's degree

Lugar

Velp (Netherlands)
Duración

4

Inicio

Fechas a escoger
Descripción
Do you want to learn all about animal behavior, welfare, breeding, trade, or horsemanship combined with business management, marketing and innovation? Are you interested in a Bachelor with a practical approach? Study Animal Husbandry (BSc) at Van Hall Larenstein in the Netherlands.
Are you enterprising and do you have a passion for animals?
Dutch animal industry is dynamic and of a very high level. On an international scale, the Netherlands is a frontrunner in the field of breeding, nutrition and the wellbeing of animals. Will you contribute to further development in the industry? Will you support the people and businesses who are active in the horse industry? Or will you ensure that the Netherlands stays an important player in global livestock farming? Developments proceed at a rapid pace. Production in livestock farms is increasing rapidly, and this development coincides with an increasing focus on the health and well-being of animals. Will you take on the major challenges? The industry can certainly use well-trained specialists like yourself!
You can specialise in:
• Equine, Sports & Business
• Applied Animal Sciences

If you want to discover this incredible sector, register on Emagister website and you will be contacted to have further details about this programme.
Materias
Animal Nutrition

Animal Behaviour

Event Management

Animal Care

Animal Biology

Marketing Strategy

Industry

Animal health

Science

Empowerment
Temario
Content Programme
You will be following objective specific courses, doing practical periods and preparing an exciting graduation assignment. The programme is competency based: each theoretical subject supports workgroup situations in which students tackle practical problems and explore workable solutions. This means that you will be active from day one, learning to work independently as you collaborate with others. The programme culminates in practical placements and a thesis project conducted in an international setting.
Career opportunities
• Advisor on animal feed
• Project manager in agribusiness
• Account manager in horse insurance
• Event organiser
• Marketeer in an industry association
• Self-employed professional
• Animal expert
The world lies at your feet when you are a graduate student of Animal Husbandry.
Upon graduation from any of these programmes you will receive a Bachelor of Science degree. Our Bachelor programmes are accredited by the Accreditation Organisation of the Netherlands and Flanders (NVAO).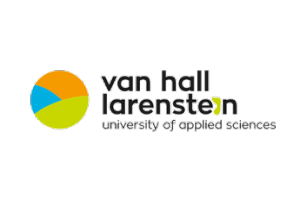 Animal Husbandry
*Precio estimado
Importe original en EUR:
2,143 €